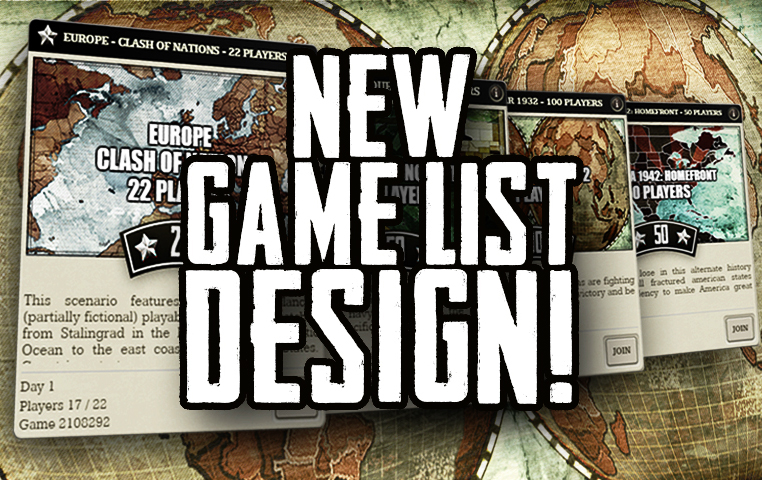 Dear generals,
as commanders in chief you need to know at all times where and when to strike in order to dominate your foes and minimize your own casualties. This is why we have put maximum effort into making the game lists more appealing and easy to use, helping you to identify the most exciting game rounds more easily. This includes the following changes:
The game list has been completely reworked to better promote the most popular game rounds and hide irrelevant ones.

The game details panel has also been reworked to display all the game information in a more clear and appealing manner.

Password-protected games and alliance games are not shown in the games list anymore as the majority of players could not join them. They can still be found via the search field by entering the game number.

Several popups suggesting new game rounds have been reworked to fit the new style.

In the last months we also often received feedback that some maps feel too empty or become inactive too quickly. For that reason we are limiting the number of games players can create to reduce the amount of empty maps:
From now on players will only be able to create one game per month. We encourage everyone to join existing rounds instead for more exciting challenges. Alliance games are excluded from this limitation.

With the next update Members of the High Command will be able to create 5 games per month.

Additionally, players now need the rank of Technician Fifth Grade (Lvl. 11) to create games.

In addition, we made an important change to the way troops of defeated players are treated, together with a few bugfixes:
When players lose all of their provinces AND become inactive or AI, their remaining armies are removed from the map and relations are reset to peace.

Sometimes, units that entered the vision radius of your units were still shown as "?". This has been fixed.

Sometimes, the AI researched Elite units which were then available to players who took their place - regardless of the number of blueprints they possessed. This has been fixed.

And there's still more! Our mobile dev team has worked hard to bring two awesome features to all players who love to play Call of War on the go:
First, coalitions are now finally mobile-ready! You can access and manage them directly on your portable device.

Second, we can now answer the question "Is there a Call of War app?" with "Yes!". With a so-called 'progressive web app' you can now install Call of War on your Android device by clicking on the popup you'll receive next time you access the game. As non-Android users you can use the "add to home screen" function of your mobile browser to enable instant access to your games.

We hope you like the changes and encourage you to provide feedback on the forum.
Your Call of War team
Felix / Alkyonor
Community Manager
Bytro Labs GmbH