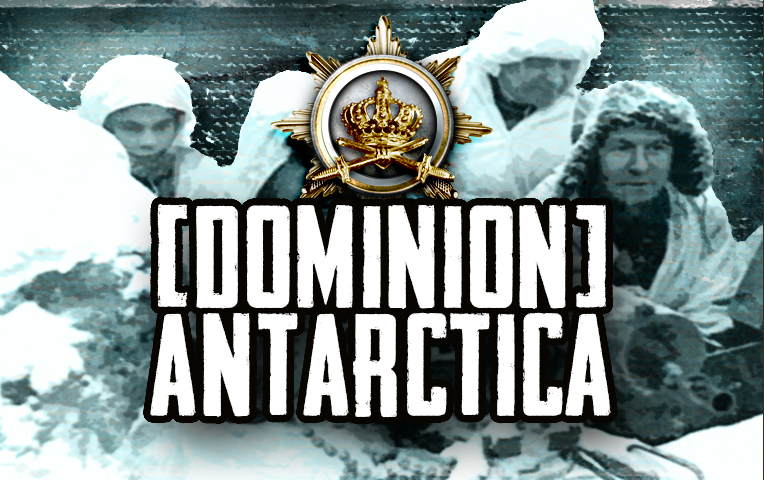 Generals!
The race is on. Rumors have it that the 1939 German expedition to Antarctica had not been solely about establishing whaling stations, as the Nazis tried to make us believe. We have gained intel about a German submarine arriving at an Argentine naval base two months after the Nazis surrendered - with the crew telling a different tale. A tale about several fully operational research facilities scattered across the Antarctica, stuffed with advanced technology and well fortified. Mobilize your armies, General, and do it fast. Cause you are not the only party ready to seize the technological treasures Antarctica might hold…
With today's update we are happy to release the "[Dominion] Antarctica - 40 players" map. Dominion is an all new game mode, which will change the way you play Call of War. In Dominion your goal is no longer to conquer countries, but to conquer and hold special points of interest (research facilities) on the map. The starting area of each player is protected and cannot be conquered or damaged. Use this safe zone to plan your attack. The first player to hold 4 research facilities for 3 continuous days will be declared winner. Coalitions and withdrawals are disabled. You may still form temporary pacts with other players to advance to your goal, but remember: In the end there can only be one winner who takes it all! 15,000 Gold will be the reward. The Antarctica map is inspired by the conspiracy theories around the German Antarctic Expedition (1938-1939) and the post-war US Navy Antarctic Developments Program (1946–1947), code-named "Operation Highjump".
The complete list of changes:
A new map/game mode has been released: Dominion. Antarctica - 40p.

The rank icons have been polished and received more details and texture.

In the "My Games" list we added the last login time of each round to the game information.

Members of the High Command are now allowed to create up to 5 games per months.

CoW Mobile: The achievements overview was implemented together with several small improvements and bug fixes.

As announced last week, we have also taken first steps to rework coalitions in CoW:
Coalitions now have a size limit (depending on map size). Check out last week's announcement to learn about the implications for existing coalitions.

Added bigger coalition flags.

Fixed coalition member list and application list layout for coalition leaders by implementing smaller buttons with new icons.

Finally, we fixed a number of bugs, including the following:
Fixed missing ranked/unranked info in game details.

Fixed supply crates not being enabled in Pacific War maps.

Fixed empty team selection menu when certain maps were created as a team game (fixed for new games only)

Fixed shop layout for 1024x768 resolutions.

Sometimes, the needed amount of players to click the "retire" button was not updated correctly when one of the 3 remaining players got inactive. This has been fixed.

We hope you like the new game mode as well as all of the other changes and look forward to hearing your feedback.
Your Call of War team
Felix / Alkyonor
Community Manager
Bytro Labs GmbH