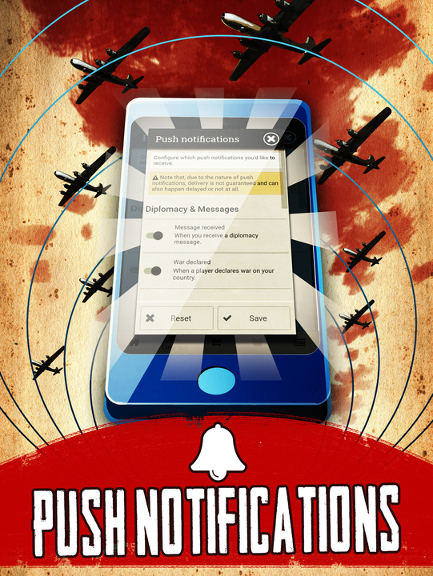 Dear Generals,
in our latest update we introduced configurable push notifications for the Call of War Android app from the Play Store. This means you can select specific events like declaration of war, captured provinces, research done etc. that will send out a notification to your mobile device. You can choose for every type of event if you want to turn the notification on or off, which is awesome! This means you won't have to set an alarm or check in between if your orders have been processed. The game will simply tell you when it's time to give new orders or react to unforeseen changes on the battlefield. Use your time in the most efficient way and log into the mobile client now to configure your personalized push notifications.
Extend the menu on the main screen and tap the bell to access the configuration of the push notifications. This new feature is in its first draft and will be developed further in the future. So feel free to give us feedback about what you like and what you are missing.
To access the Google Play Store mobile app simply click
here.
For everyone of you who uses the progressive web app, don't worry. The push notifications will also be available for you soon.
Now go and fulfill your duty and maximize the potential of your army by setting up your push notifications!
Your Call of War team
Sarah / Sasri
Ex-Community Manager