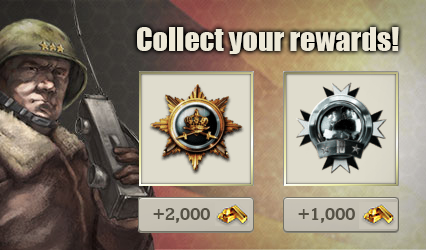 Dear generals,
with next week's update we are happy to announce a new feature which will change the way you engage with Call of War: achievement rewards! As soon as the update is live you will be able to collect Gold rewards for completing any of the over 40 achievements you did not complete so far. We also rebalanced the existing achievements and lowered the requirements for certain levels (some of them have never been unlocked by any player). This also means that some players will automatically gain certain achievement levels with the update which they didn't reach before. Rewards can not only be collected for achievement levels gained after the update, but also for any that have been completed since April 1.Additionally we added 2 new achievements. The Fly Swatter (kill 25/150/1000 units with anti-air) and Artillery Aficionado (kill 100/500/2500 units with artillery).
The full details on which achievements have been changed and how much gold you will be able to collect can be found in this
Google Sheet
In addition, next week's update will bring another change: Some of you may be familiar with the 'Earn Premium Currency'' tab in our shop and maybe have also used it. However, we often received complaints that those offers didn't work as intended. Sadly, we also didn't have control over the kind of offers that were displayed and were therefore limited in resolving offer-related problems. We discussed the option to remove the offers many times, but our investigation showed that there were still quite many successfully completed offers and gave several people the opportunity to receive some gold. Now the day has finally arrived to say goodbye to those gold offers. We are currently exploring better ways to allow players to earn free Gold in the future.
We hope you are as excited about the achievement feature as we are and won't miss the Earn Gold offers too much while reaping those rewards.
Your Call of War team
Sarah / Sasri
Ex-Community Manager